"It is our blood, sweat, and tears"
Be Dope cornered Be's Melanie Walker - Web Diva, Sovereign Queen of BeWare, Tarot Card Reader, and much more. In this interview, she talks about getting hooked on Be, the energy and pace of a startup, bleeding edge technology and modified semiautomatic handguns.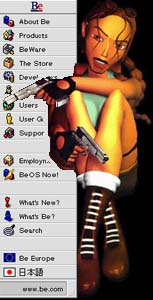 What is your title at Be and how does it relate to what you actually do there?
I am une Diva du Web, or as we say in your country, "Web Diva". My task is to bring glamour and good taste to all facets of the Be web site. As the sovereign Queen of BeWare I reign over the archive of freeware and shareware with panache. I also generate lots of content for our site, both graphical and informational. But what I love the most is talking with Be users, and developers, and the "be-curious" through the email that comes to me through webmaster email.
How did you first hear of Be?
Destiny. A couple years back, when the BeOS appeared on the cover of MacTech magazine with a CD inside (DR 8.2) I was curious. What can I say? I was hooked! There I was, starting a User Group and setting up a web site, plastering fliers in technical bookstores and cyber cafes all over Portland, Oregon.
What/Who made you decided to work at Be? What was your experience in landing a job there?
At the time, I had been contracting as a GUI designer for software and web sites. I was beginning to weary of the nomadic lifestyle. Also, as a veteran of two startups, I realized that I needed the energy of a startup. I decided to attend a couple of the Developer Conferences to check the company out. As a startup, Be had the energy and pace I craved, and a team of brilliant, vibrant, and excentric individuals that I knew I could relate to. It felt like home. So I devoted myself to becoming indispensible to them, both as a User Group facilitator and as a general "helper bee". Luckily, I made some key allies within the company (Thank you, then-allies who are now good friends!)
When a position opened up, I applied with a rather unorthodox resume -- a deck of custom designed Tarot cards. It raised some eyebrows, evidently, but it got their attention, and I got the interview. The interview process was rigorous but not painful. I met with several members of the team. My key interview was with Ron Theis, our webmaster, who had unfortunately injured himself the previous night playing soccer. We had to schedule a phone interview for later in the week. Fortunately, the phone interview went well and a month and a week later, I was coronated Web Diva at Be.
What is your computer background?
I am a technology enthusiast with some familiarity with what's going on under the hood. I knew enough Basic to write a poker game in 1980, and I took C in college (I think that was the grade I got, too.) and have learned some basic Perl and Javascript on the job. But I am not a programmer. What I like is using the computer to make things. My first bonafied out-of-college job was creating 3D models and animations for a computer games company. This field, which typically pushes the envelope in terms of raw computing power, gave me a serious passion for bleeding edge technology. This is why I feel strongly about our operating system. Be and BeOS developers are giving people like me the tools that they need to create truly amazing things with video, audio, and imaging.
What is your favorite computer game?
Ask me who I would like to be in a computer game instead. (Lara Croft.) Not that I think violence is the answer to all our problems, certainly. As for what I am playing obsessively these days, it's Yoshi's Story on N64.
What books (work-related and otherwise) do you consider a must-read?
I read books, sure. But must-reads for me are magazines and newspapers: The Economist, the New Yorker, The New York Times (Sunday edition), and Fast Company or The Red Herring in the WC. Lately, I really like Silicon Valley kiss and tell books. I recommend Inside Intel and Carlton's book on Apple [Apple: The Inside Story of Intrigue, Egomania, and Business Blunders. In the "otherwise" category, these days, I recommend anything by Neil Stephenson (Snow Crash, The Diamond Age). I really like the way Neil writes his women characters. Neil is also a registered Be developer. I guess that means he's just about perfect.
If the BeOS was an animal, what kind would it be?
Something sleek, powerful, and wonderful. Maybe a shark. Maybe a sea lion.
What are you wearing at work today?
A tank top, khaki hiking shorts, jackboots, a backpack, and a matched pair of Smith and Wesson 9mm modified semiautomatic handguns. And mirrored sunglasses. (and a nametag that says, "That's *Ms.* Croft to you, amigo")
Who is the coolest Be employee and why?
I am fiercely proud of all my compatriots. (Gush!) They are all gifted and delightful in many ways. But my Be hero is Steve Sakoman. I think he is extremely intelligent and talented as both a programmer and a hardware engineer. He seems to be a good manager (I'm not in his group, but I have spies everywhere!) and he gets the job done, no nonsense. He is quiet and unassuming, but he has a great sense of humor, and best of all, he shares his toys!
Who is your favorite muppet, if any, and why?
Waka waka waka! That's all I have to say.
Finish this sentence: "Working at Be kicks ass because ______"
We believe in the product. It is our blood, sweat, and tears. We have assembled under one roof some of the best engineering, marketing, and financial talent in the industry, and I think we have better than average odds at making this company successful. (And, we're capitalized.)

More Interviews:
Mike Clifton
creator of Moho
Scott Barta
NetPositive author
Joe Palmer
the father of the BeBox
Seth Flaxman
CEO of ABiSoft
Scot Hacker
BeOS Bible author
Michael Alderete
Be's Webmaster
Melanie Walker
Be Web Diva
Dominic Giampaolo
Be engineer and creator of the BFS
Douglas Irving Repetto
creator of geektoys