"Don't Moon the Ogre"
Be Dope steals a few moments away from Be's Dominic Giampaolo and talks about life and work at Be, software engineering and programming naked.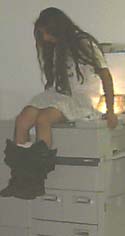 Be Dope: What is your title at Be and how does it relate to what you actually do there?
Dominic Giampaolo:
We don't really have titles but I think [my] business card says "Software Engineer" which is pretty accurate because we engineer software. What we do day to day is programming and bug fixing.
How did you first hear of Be?
A friend showed me their press announcements when they publicly announced the BeBox on Oct. 1st 1995. It was pretty exciting stuff.
What/Who made you decided to work at Be?
I wanted to do more real kernel work and there just aren't a lot of places you can do that.
What was your experience in landing a job there?
Some friends and I came to see a demo at the Be offices the week after the announcement. We jokingly asked if they had job openings and soon after that I came back for an interview and got a job offer.
What is your computer background?
My first real programming was a high school class in Pascal on an Apple II. Then I graduated to Turbo Pascal on a PC and from there I got an Amiga where I cut my teeth on C programming. The Amiga was a lot of fun to program back then (87-92). Around the same time as I got my Amiga I also got hooked on Unix. I've been a command-line weenie ever since.
What is your favorite computer game?
I don't really play many games. Quake is fun sometimes but I just don't have much time to play games.
What books (work-related and otherwise) do you consider a must-read?
101 Ways to Pick Up Chicks by Richard Hertz.
Atlas Shrugged by Ayn Rand.
Kernighan and Ritchie (it's the Bible!).

If the BeOS was an animal, what kind would it be?
A platypus with big tusks and horns, webbed feet in front, hooves in back, a snout like an ant-eater, and scales for skin. Why? I don't know but it sure would be a cool looking animal.
What are you wearing at work today?
Nothing. Friday is nude-programming-day at Be. We all come in nude. It's a little unusual but very exhilarating.
Who is the coolest Be employee and why?
Everyone is pretty cool.... Hiroshi is funny, Pavel is cool, Baron is a rock-star, Jon is smart, Cyril is god-like, Pierre is a coding wizard, Benoit is a total hacker, Steve S. is a good manager, JLG has the best stories, Alex is great, Ron Zilla is really sharp, Ming knows a lot about everything... the list goes on and on.
Who is your favorite muppet, if any, and why?
Animal. He was just psycho.
Finish this sentence: "Working at Be kicks ass because ______"
...because we get to work on the stuff we use everyday.