3 February, 2000 11.27am pst | Particle-wave Edition
Be Dope Files For IPO, Reveals Linux Strategy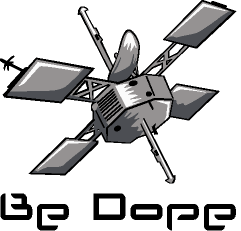 BE DOPE NEWS (BDN) Be Dope announced today that it has filed a registration statement for the initial public offering of its Common Stock. A Be Dope spokesperson commented this IPO will be the "hottest sure-thing IPO ever," but would not comment further due to "quiet period" restrictions.
Be Dope (not affiliated in any way with Be, Inc.) is the leading provider of BeOS information to the BeOS and technology community. According to statements filed in its prospectus, it faces no competition and there are no risks involved in participating in the IPO process.
"Once we are a public company, we will be mandated by law to increase shareholder value by any means possible," reads the prospectus. "This will remove from us the burden of operating under any moral, good-faith and other 'touchy-feely' codes."
Be Dope plans to offer 6,000,000 shares at $10-$12 per share. Funds raised will be used for "promotion, a new research facility/beachouse, improved modes of transportation and the hiring of vital staff, including a gourmet chef, massage therapist and a puppetteer." It has applied to trade under the ticker symbol DOPE. Analysts believe the demand for DOPE will be high.
In a related statement, Be Dope revealed their "Linux Strategy".
"Our strategy will be to mention Linux often while in practice avoiding any actual Linux products altogether," said Be Dope CEO Mike Popovic. "I personally don't use Linux, but I know many people who choose to use Linux and are happy enough with it. While not using Linux, I sometimes follow media reports on Linux, Linux companies, the Linux community and Linux websites. On occasion, our stories will mention Linux in one capacity or another."
It is expected that all of the stock will be sold by the Company. Lebling, Dornbook & Co. will act as lead underwriter of the offering. Copies of the prospectus may be obtained from the underwriters.
Sideways Looking Statements
Many of the statements in this document are sideways-looking in nature. That is, statements that are not historical facts are "sideways-looking statements," including without limitation statements regarding any plans for actually making an offering, the way we plan to spend shareholder funds, the availability of the Internet, a future appearance on the Late Show with David Letterman, and our ability to produce content while avoiding distractions, including but not limited to: movies, tv, music, porn, clubhopping, piercings, crummy.com, chinese food, space ghost, the cotton squares, La Cutest of Go-Go, john irving, good surf conditions, meteorite showers and swiss cheese.
Actual events or results may differ materially as a result of risks facing Be Dope or actual results differing from the assumptions underlying such statements (especially for statements entirely fabricated). Actually, the laws of probability pretty much dictate that any specific predictions will be the most unlikely to become true. Exceptions are made for those who believe in a system of parallel universes, in which case there will be one universe where events and results will conform exactly to the statements made, and an infinite number of universes where things will be different. No guarantees are made by Be Dope as to which universe you are currently inhabiting.
All such sideways-looking statements are expressly qualified in their entirety by the "Risk Factors" and other cautionary statements included in Be Dope's prospectus, filed pursuant to Rule 5038(b) on February 3, 2000 (Commission File No. 867-5309), and other public filings with the Same-old Expected Commissions.